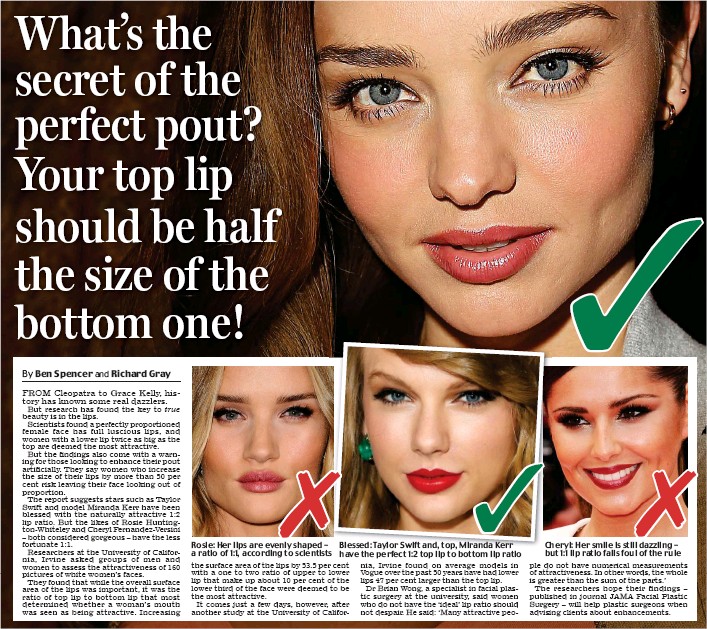 Its a FACT that ALL lips will thin as we age.
This clearly can change how a person looks, and in some patients their top lip will almost completely disappear when they do a big smile. This change in appearance can lead to personal distress.
To help address this personal distress the qualified nurses at Daffodil will firstly discuss lip symmetry with the patient to gauge their understanding, feelings and desires.
Some studies suggest that the top lip to bottom lip should ideally have a 1: 1.6 ratio.
Other studies, such as the Daily Mail (17.02.2017) article to the right, suggests that a 1:2 lip ratio is more attractive.
The summary is that it ALL depends on what the patient's own perceptions of "ideal lips" are and how the proportions of their face interact with their lips.
The bottom line is that our dermal filler solutions help to recreate lip symmetry and add volume, which helps to bring back confidence and aesthetics.
Caroline McNeil, Partner at Daffodil Aesthetics explains;
"At Daffodil we will look at the patient in expression, kissing and smiling and take photos, where appropriate, to review and discuss further.
If a patient is in need of an increase in their lip height then our daffodil nurses will consider treating the vermilion border.
If a patient has a flatter cupid's bow, then our daffodil nurses will look to inject in that area, .... and
If it's just a general lip fullness that they request then we would inject in the pink body of the lip.
It all depends on the individual and what their perceptions and reality of their facial features are".
If you would like to have a informal chat about your concerns, please give us a call. You are not alone. We will have treated many people with similar concerns to yours with results which delight the patient, as exemplified in the case studies below.